弟兄姊妹平安:  
當耶穌騎着驢駒進入耶路撒冷時,合城的群眾異常興奮,照著撒迦利亞先知的預言說:「你的王來到你這裏,謙和地騎着驢,騎着驢駒子。」他們高聲呼喊,稱頌耶穌:「和散那歸於大衛的子孫!奉主名來的,是應當稱頌的。」他們把棕樹枝和衣服鋪在地上,迎接耶穌。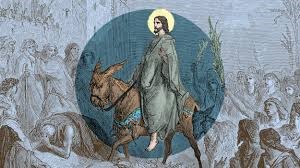 幾天之後,耶穌站在巡撫彼拉多的鋪華石處受審,合城的人又聚在哪裏,向着頭戴荊冠,身穿紫袍的耶穌,高聲呼喊:「除掉他!除掉他!釘他十字架!」
耶穌來到地上傳道、教訓、醫病和趕鬼,但他最重要的使命,就是要以他自己無罪之身,為我們世上的每一個罪人釘在十字架,把我們從魔鬼的權勢下贖回過來。
我們的罪是我們心知肚明的罪,「立志行善由得我,只是行出來由不得我,我所願意作的善,我不去作;我所不願作的惡,我倒去作。」這是我們知之甚詳,痛苦中的罪。
我們的罪是我們蒙昧無知時候作的罪,「愚頑人說,沒有神!」「我們死在過犯罪惡的時候,行事為人是隨從今世的風俗。」這是我們放任自我的罪。
我們的罪是在我們心靈深處隱而未現的罪,「誰能知道自己的錯失呢?願你赦免我隱而未現的過錯!」這罪就是「我們能看見弟兄眼中有刺,卻不想自己眼中有樑木」。
在紀念主耶穌道成肉身的最後一個星期,讓我們每時每刻都敏感聖靈給我們的感動,不要讓聖靈擔憂,並且知道聖靈是真理的靈,祂來了,叫我們為罪為義為審判,自己責備自己!
神啊,求你開恩可憐我這個罪人!
主內
王 興
2023年3 月31日
31st March, 2023 
Dear brothers and sisters,
When Jesus rode into Jerusalem on a colt, the crowds in the city were extremely excited. According to the prophecy of Zechariah, "Your king comes to you, lowly and riding on a donkey, on a colt, the foul of a donkey." They shouted loudly and praised Jesus: "Hosanna to the Son of David! Blessed is He who comes in the name of the Lord." They spread palm branches and clothes on the ground to welcome Jesus.
A few days later, when Jesus stood on the Stone Pavement of Pilate for trial, the people of the city gathered there again, seeing Jesus wearing the crown of thorns and the purple robe, they shouted, "Take him away! Take him away! Crucify him!" 
Jesus came to the earth to preach, teach, heal, and cast out demons, but his most important mission was to be crucified with His sinless body for all sinners to redeem us from the power of the devil. 
We know our sins well. "I have the desire to do what is good, but I cannot carry it out. For I do not do the good I want to do, but the evil I do not want to do – this I keep on doing." This is the sin of suffering that we know all too well.
Our sin is the sin we did when we were ignorant, "the fool says, there is no God!" "we were dead in our transgressions, and we used to follow the ways of this world." This is the sin of our self-indulgence.
Our sin is the hidden sin in the depths of our hearts. "Who can discern their own errors? Forgive my hidden faults!" This sin is "We can see the speck of sawdust in our brother's eye, but we pay no attention to the plank in our own eye. "
In commemorating the last week of the incarnation of the Lord Jesus, let us be attentive to the voice of the Holy Spirit, not to grieve Him, and know that the Holy Spirit is the Spirit of truth. He has come to prove the world to be in the wrong about sin, righteousness, and judgment.  
God, have mercy on me, a sinner!
In Christ,
Sam Wong